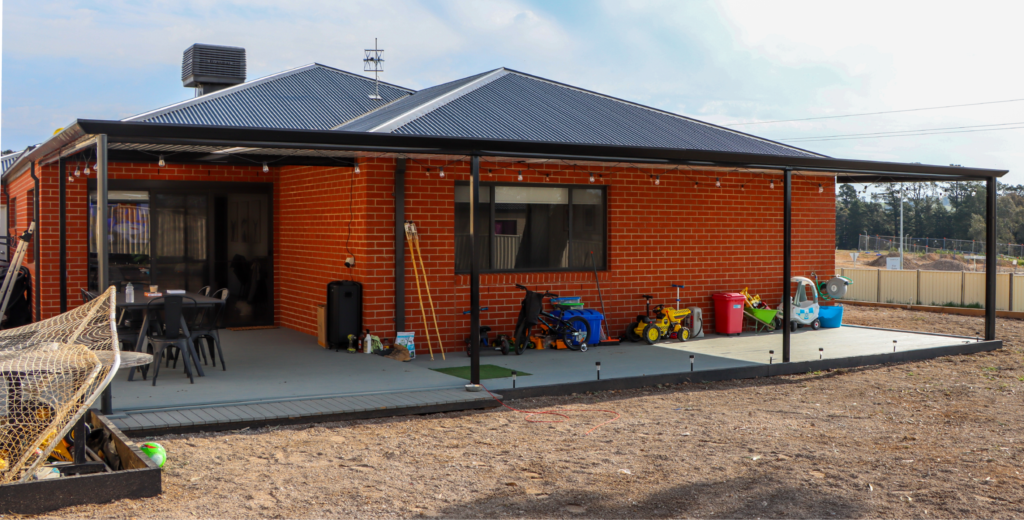 The Ultimate Patio and Pergola Selection Guide
Outdoor entertaining is a huge part of Australian culture, but we all know how difficult that can be with the ever-changing weather conditions. That's why patios and pergolas are a staple in most Australian homes. A great enhancement to your home, patios and pergolas allow you to create an outdoor oasis that will provide protection from the elements, allowing you to relax in style.
Stratco patios and pergolas are an ideal option when it comes to creating your outdoor entertainment area. They feature enclosed beams to discourage pests, minimal framework that results in less cleaning, fewer visible screws for a neater appearance, a unique beam and bracket system for strength and impressive large spans for uninterrupted views.
As a Stratco Outback authorised dealer at All Sheds, we can help you create a stunning outdoor area you will want to spend all your time in. Stratco offers several different patio and pergola options for your outdoor space, keep reading to discover the most popular options and their benefits.
Flat Roof
Flat roof patios feature a simple, smooth design with uncluttered lines. These patios can be either a single unit or incorporated with a gable roof patio to create a larger structure. Available as freestanding or attached, the beams allow for spans up to 8.4m. There are four flat roof patio configurations available, type 1, type 2, type 3, and type 4. Type 1 allows for spans up to 4.5m and only requires an outside beam for support. Type 2 is the same as type 1, however, there is an overhang at the front that increases the covered area to 5.4m. Type 3 has support beams that run across the span, allowing the roof sheets to run horizontally. Type 4 has extra support beams and a purlin that runs through the middle, allowing for spans up to 8.4m.
Cooldek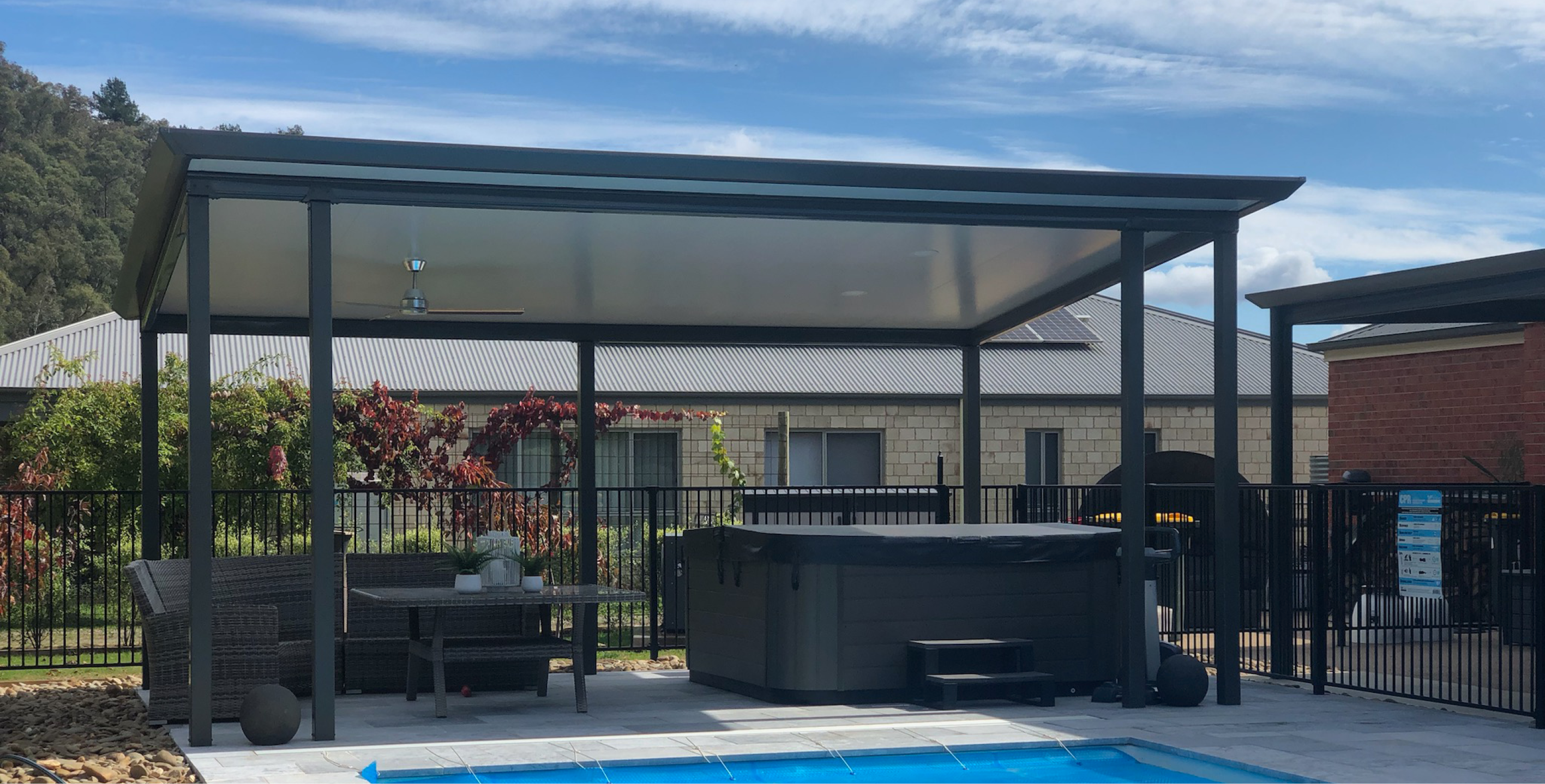 Cooldek is an insulated patio option that can span large lengths unsupported. The large unsupported spans up to 7.2m provide uncluttered, clear views, helping to enhance your outdoor experience. Cooldek features an EPS insulated core that is permanently bonded to a smooth, easy-to-clean steel underside with a profiled steel topside that features a built-in rebate to conceal the wiring of any fans and lights. With outstanding thermal performance, Cooldek patios reduce heat from above while reducing noise like heaving rain with its noise reduction properties. This all aids in keeping the interior of your home cool while helping to reduce your energy costs and carbon footprint. Cooldek patios are available in 2 top profiles, either Cooldek CGI or Cooldek Classic and 2 underside contours, either smooth or two ribbed, with insulation thicknesses of 50mm, 75mm or 100mm.
Gable Roof
Gable roof patios can create an open feel that will enrich your home and outdoor space. Available as freestanding or attached, gable roof patios can be combined with a flat roof patio to create a larger structure. Gable roof patios are available in either multispan or clearspan designs. A multispan gable roof patio has the purlins placed over the roof rafters, allowing for spans up to 6.6m wide. A clearspan gable roof patio utilises the remarkably strong Outback Deck roofing material, allowing for spans up to 7.5m wide.
You also have the option of the gable roof Outback Heritage design. This design is available in either a traditional or Dutch gable design, both with a standard eave height of 2.4m but allowing for eave heights up to 3.6m. The traditional design allows for spans up to 8.4m wide with either a 22° or 30° roof pitch, while the Dutch gable design allows for spans up to 7.5m wide with a 22° roof pitch.
Sunroof
Sunroof patios are an impressive patio option that features electronically controlled louvres instead of regular roof sheeting. The sunroofs are available as either flat or gable roofed, with the flat roof providing spans up to 3.9m and the gable roof providing spans up to 7.2m. The louvres can be opened or closed to your desired position to let in breeze and sunlight while also providing protection. The powder coated aluminium louvre blades provide whisper-quiet performance that is powered by a 24-volt DC linear actuator for reliable long-life operation. When completely shut the louvres form a ceiling-like interlocking profile, with a built-in weather strip that helps create a tight seal and reduce noise. Sunroof patios feature rain sensors that automatically close the louvres when rain is detected, helping to keep all your outdoor furniture protected and in top condition.
With a multitude of patio and pergola options available, there is no reason why one can't be the ideal addition to your outdoor space. Plus, with a range of accessories available, including blinds, lights, fans, skylights, heaters, and much more, a patio or pergola is the perfect way to create your own little outdoor oasis.