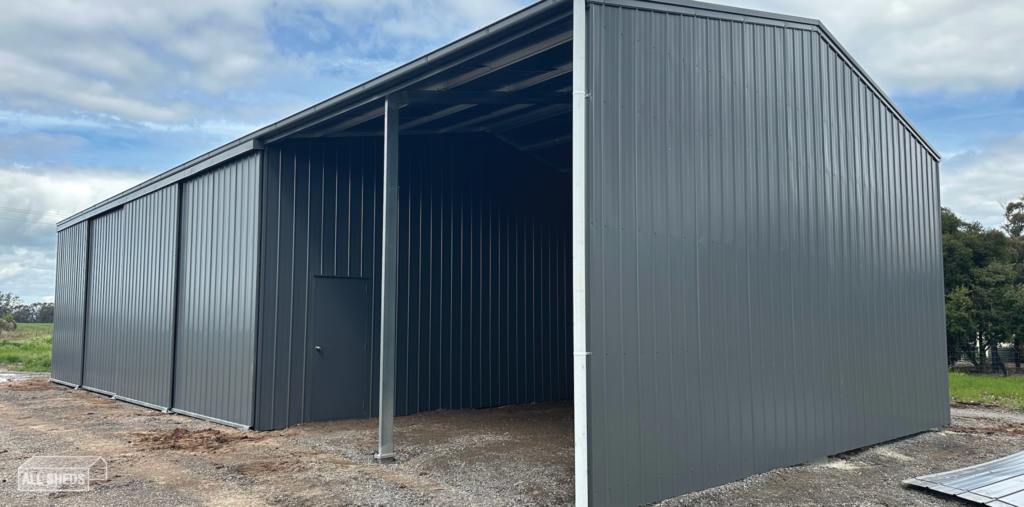 PREMIUM Shed
Stewarton, VIC
The All Sheds team were contacted by a customer in Stewarton who was needing to build a shed to keep all their farming machinery and equipment protected from the weather. They contacted All Sheds for help finding the right solution for their needs.
All Sheds completed a site visit and measure up, discussing with the customer what their vision was for their new shed. After the discussions, the customer decided that the best solution for their needs would be an 18m x 8m x 4m premium gable roof shed with a 12.5° roof. The customer decided on this size as it would be large enough for them to fit all their tools and machinery while still leaving them enough room to move around in the shed comfortably. To complete the shed, the customer decided to include 4 sliding doors and a personal access door and chose to clad the shed in Colorbond Basalt.
Since the completion of the shed, the customer has been able to successfully keep all their machinery and equipment protected from the weather helping to expand the lifespan of each item.
Quote this project